Welcome to Kent Middle School!
Site Shortcuts
Kent Announcements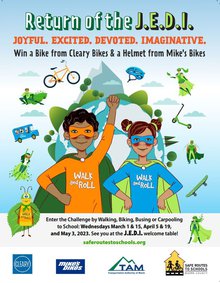 Walk & Roll to School Day: J.E.D.I Challenge Begins!
Wednesday, April 1, 5, and 19, and May 3
*If the storm warning interferes with Walk & Roll to School Day, activities will be postponed until Wednesday, March 21.
The J.E.D.I Challenge is a four-week contest to help reinforce the habit of walking and rolling to school. Upon arrival at school, Parent Volunteers stamp participating students' cards. At the end of the four-week challenge, students enter their stamped cards into a raffle for a chance to win prizes.
Participating students can raffle two raffle prizes – a bike from Cleary Bikes and a helmet courtesy of Mike's Bikes.
---
Kent Events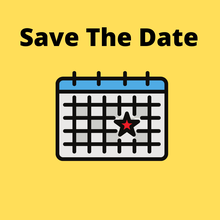 2022-2023 District Calendar PDF & 2023-2024 District Calendar PDF
Kent Middle School 2022-2023 Bell Schedule
Monday, March 27, 2023
LCAP Strategic Plan Advisory, 4-5 pm.
Wednesday, Mar 29, 2023
Thursday, Mar 30, 2023
Kent Open House, 6-7:30 p.m.
Friday, Mar 31, 2023
Kent Early Release - Special Schedule - 1:13 p.m. Dismissal
Resources and Information
Annual Updates
Registration Information
School Board and District Committees
Regular School Board Meeting: Tuesday, March 14, 2022, 5-8 p.m.
Agenda will be posted here by 5 p.m. the Friday before the meeting.
Visit the School Board page for the archived videos of board meetings, letters to the community, agendas, and minutes.
---
Rewarding Job Opportunities

Are you interested in part time work in a school setting? Do you enjoy working with small groups of students?
If so there are two ways you can engage in this type of work. Apply for an open Classroom Paraprofessional position or sign up to be a substitute for the Kentfield School District. We need to build our pool of paraprofessionals and substitute teachers. If you are interested in either of these roles please reach out to rrose@kentfieldschools.org or follow the directions below.
Apply to be a Classroom Paraprofessional HERE
See information to be a Marin Substitute Teacher HERE
KSD substitute information: video and slide deck
Getting To and From Kent Middle School
All visitors to Kent Middle School must enter school grounds through the main office. A visitor badge is required for all visitors and volunteers during the school day, and can be obtained in the office.
Please consider walking or biking to campus. Visit Safe Routes to School to discover the best and safest route to walk, bike, skate, to Kent!
Learn how to get to school safely with tips and neighborhood route maps.
---
800 College Avenue, Kentfield, CA 94904
Telephone: (415) 458-5970 | Fax: (415) 458-5973
Attendance Reporting: (415) 458-5972
Office hours are 8:00 am to 4:00 p.m. on school days.
Please note: Some Wednesdays after 2:00 p.m., the office may be closed due to staff meetings.