September 14, 2020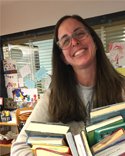 I am thrilled to announce that our All School Read for the 2020-2021 school year is This Promise of Change: One Girl's Story in the Fight for School Equality by JoAnn Allen Boyce and Debbie Levy. We will be reading this amazing book in verse later this fall, and will also have a virtual visit with the authors this winter. The book is timely, incredibly pertinent, and is filled with primary source material that really enhances the story. Here is a description of the book by Bloomsbury, the publisher:
"In 1956, one year before federal troops escorted the Little Rock 9 into Central High School, fourteen year old Jo Ann Allen was one of twelve African-American students who broke the color barrier and integrated Clinton High School in Tennessee. At first things went smoothly for the Clinton 12, but then outside agitators interfered, pitting the townspeople against one another. Uneasiness turned into anger, and even the Clinton Twelve themselves wondered if the easier thing to do would be to go back to their old school. Jo Ann–clear-eyed, practical, tolerant, and popular among both black and white students–found herself called on as the spokesperson of the group. But what about just being a regular teen? This is the heartbreaking and relatable story of her four months thrust into the national spotlight and as a trailblazer in history. Based on original research and interviews and featuring backmatter with archival materials and notes from the authors on the co-writing process."
I am thrilled to work in partnership with the Book Passage for you to purchase this book and other related titles using this link. A portion of the proceeds from your purchase will go back to Kent to help put books in the hands of our students!
Book Drive!
Our book drive at Kent will remain in full swing until we are all able to return to campus. Please drop your NEW or GENTLY USED books for grades 5-8 in front of the mural at the entrance to Kent. We will quarantine your books and divide them up by grade level for grade level book bags....see below for more details!
Book Bags Ready for Pick Up!
Thanks to the donations of many Falcons and their families, we have book bags for every grade level to pick up and enjoy! You will find these bags in boxes marked by grade level in front of the Kent office. Feel free to read, keep, or pass on your books OR donate them right back to the book drive for another life!
Project LIT Book Club- It's Trevor Noah...Born a Crime
Our first Project Lit book club book of the year is the Young Readers edition of Trevor Noah's memoir Born a Crime. Adapted for readers ages 11 and up, Born a Crime tells the incredible story of how Trevor Noah went from Aparthied South Africa to a world famous comedian. It's an incredible book, and one that should provide us with some rich discussion. We will meet at the end of September, and all grades are welcome. If your child would like to read the book, have them email me at rjelen@kentfieldschools.org, and we will arrange to get a copy to him or her!
Happy Reading!
Rebecca Jelen
Kent Librarian
rjelen@kentfieldschools.org
Follow me on Instagram @kentmiddleschoollibrary