November 7, 2019
Dear Kent Families,
A huge thank you to our amazing CO-VPs, Charlotte and Anna, and their dance committee for putting on a fantastic first dance of the year last Friday! The day glow theme and colorful decorations made it the perfect follow-up to Halloween. Another enormous amount of gratitude goes out to all the parent chaperones who came and worked the doors, checked in the kiddos, and organized the money tally. I am so thankful for your incredible support, keeping us safe, and helping set up and clean up!
On Tuesday, we held the seventh and eighth grade spelling bee. Congratulations to our winning spellers who will go onto the Marin County meet in December. They are seventh grader, Alex Sumski and seventh grader, Pratyush Srivastava! Great job!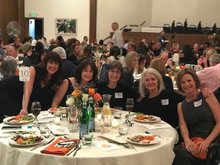 Finally, several staff members, past and present, attended the beautiful Opening the World auction on Saturday night to support our soon-to-be youth mentors. I was honored to be able to present our "Together We Can" initiative on behalf of the stellar Elizabeth Estes who brought this program to our school last year. It was such a blessing to be surrounded by people throughout the community whose sole purpose is to lift our kids to guide them in being their best! Keep an eye out for more information to come on this year's "Together We Can" opportunities and ways to serve the community!
Thank you,
Melissa Stephens
Kent Activities Director